Things that happened to me since my last post.
Friends left
Friends who were also here doing European Voluntary Service, but only for three months, left. It was a sad moment, but it also made me realize how time flies… So I said thank you again for the internet and I felt happy because now I have two more reasons to visit Romania and Bulgaria this summer!
I was on TV!
We started a volunteer campaign for the European Universities Games, so you will see us everywhere – at faculties, events, media radio, tv, etc. In Hungarian, we would say that we will flow from the tap. So at 7 o'clock in the morning, Gordan Kožulj, Ivana Aničić, Hrki Hrkić – our Mascot – and me came to Dražen Petrović Square to go live on TV on 'Dobro Jutro Hrvatska'. I mustered all my courage and uttered one whole sentence quite successfully, until the end when I had a big…yeah…at the end…well… It doesn't matter, I was on TV. Also, we made a promotional video for volunteers, where I admit that our guys in the office are really strong. They lifted Hrki so high in the air that I wanted to be Hrki at that point and fly!
Golden Spin of Zagreb 
We also visited the 48th Golden Spin of Zagreb with friends. We were sitting next to a family of a Croatian girl who was competing, so we saw her live! Have you ever noticed how strong their legs are?! There were not so many visitors that time; that's a pity, because the competition was great! Competitors came from all around the world! And they even went to a party in Green Gold, my friends saw them! 
And Advent, Advent, Advent! 
Has anyone ever told you that Advent here is wonderful!! When I saw the ice rink at King Tomislav Square with all the lights at Zrinjevac Park…There are moments in your life that stay with you forever… So if you would like to have a good walk, I would suggest you start from the main square, Ban Josip Jelačić Square, and first take a look at handmade jewelry on the left side of the square. My favourite is Tinker Bell, maybe someone else sees something different, but to me, it looks like Tinker Bell from Peter Pan. Then grab a "kuhano vino" – mulled wine – on European Square, play a bit with a gun and an owl. Be careful, don't put your bottle too close to the spinning area, it can fall!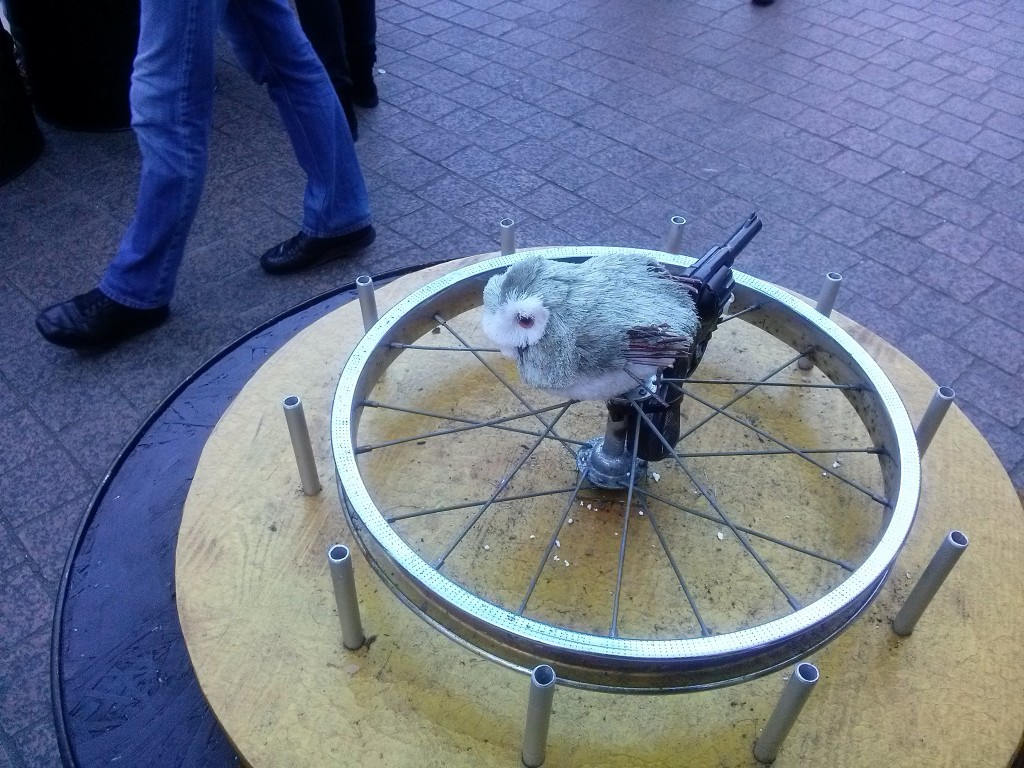 After that take your time to stare at the hearts above you, and then head down to Zrinjevac Park via Praška Street. By the time you arrive, you should finish your wine, so you are ready to select some sweets and continue your journey to King Tomislav Square. Estimated time of arrival is 5:15, just in time to grab your skates and go ice skating for an hour. Ice skating, apparently, will make you hungry, so go for a sausage either next to the ice rink, or wherever you have found the most attractive one! I have tried several places, and all of them were great, but I only had 'debrecinka', so I don't know what the other type of sausages are like.
So there you have it! An ideal schedule for a perfect day!
Survivors quotes:
Peel chestnuts before eating.
Be aware of old ladies who kick your basket while you are staring at the selection of cheeses at the shop.
Breathe less when indoors to avoid humid windows.
Use coffee leftover as a body peeling during a bath.
'Boca' is not a nice version of saying  'bok'; it means 'bottle'.