---
Dora, Mia, Branka and Boris are not ordinary Zagreb citizens. Yes, of course, they love their city, they live and work there like everyone else, but apart from that these people work on promoting the city every day, free of charge. Thanks to their Instagram profiles Artimido, Brankadore, DoraDoraa and Astrobobo, they have become the ambassadors of Zagreb. These fantastic four people use their mobile phones and cameras every day to take pictures of city details, parks, buildings, people, animals… And here is where the story starts – while we were looking for the best Instagram photos of Zagreb, we found them and met them. The meeting point was at Mandusevac from where we went to see and talk about their favorite places in the city center, to show those places to all of you – tourists and fans of Zagreb. We called it 1st JustZagreb Instagram MeetUp, but instead of any formal meetup or gathering, we had a great time exploring our city as it was our first time here.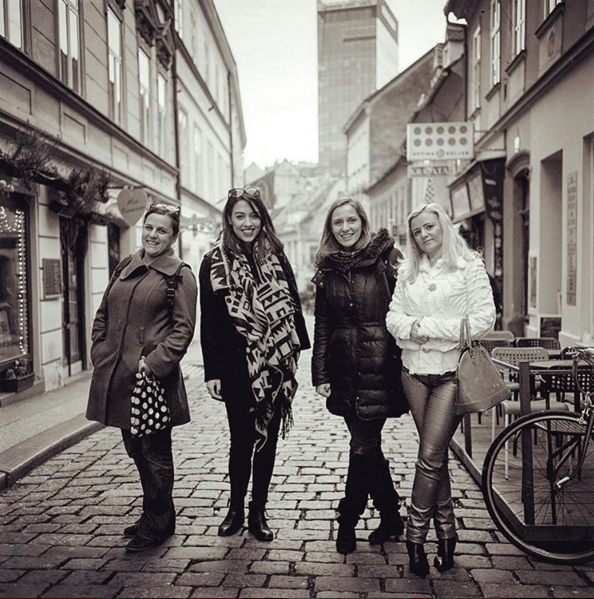 Man's choice – Boris's choice
'Let's start in the Jack the Ripper Street' suggested Boris that Saturday in March. 'It is my favorite!' he added. We just looked at each other in bewilderment as no one had a clue what the hell Jack the Ripper Street was.
'It is a small street just behind the public toilet. It is between Ban Jelacic Square and Europe Square and it is the most mystical street in the city. In fact, one of my favorite, and of course, that is not its real name, but it is tiny and dark and somehow scary, so my friend Svjetlana named it that way.' Explained Boris. As he looked very enthusiastic and happy while talking about the small unknown place, we got involved and became very interested in it. So we went there… And just like he had explained – on the right of the model of the Zagreb city center, and just behind the public toilet, there was 'the Street' – hidden from the eyes of a tourist, open for the local ones. Covered by pebbles, dark, ruined and short, the street marked as O.O.T.C. stood there. In it, we were surrounded by old buildings, stairs, walls… everything looked very wet, ugly, but also charming. And what was the most interesting thing – Boris was the only one who knew about it. We were all delighted with the old architecture, imagining stories about the street, googling about it and taking pictures, of course. Then we passed through and went further.
The little street connects Europe Square with souvenir shops. So if you are exploring the city center, find it and go through.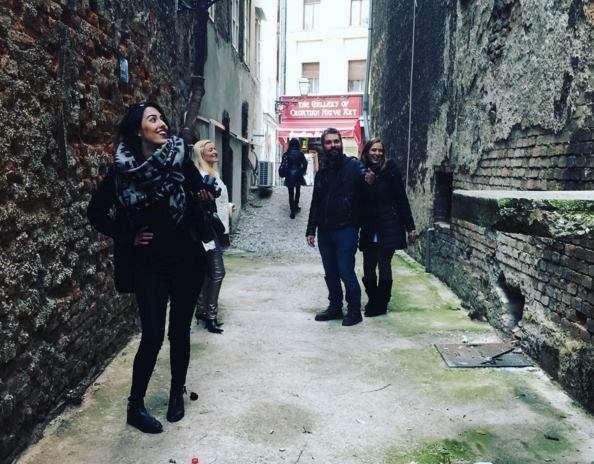 Behind the wall, straight to Tkalca
Step by step, we came to Tkalciceva Street as we followed Boris to another favorite place of his. Small wooden stairs (Little Stairs) that will take you from Tkalca to Upper Town (Radiceva street).
'Here I made one of his first Rolleiflex photos … still is one of my favorites. Let me repeat it with all of you' he explained and we lined up like soldiers and enjoyed in making new memories.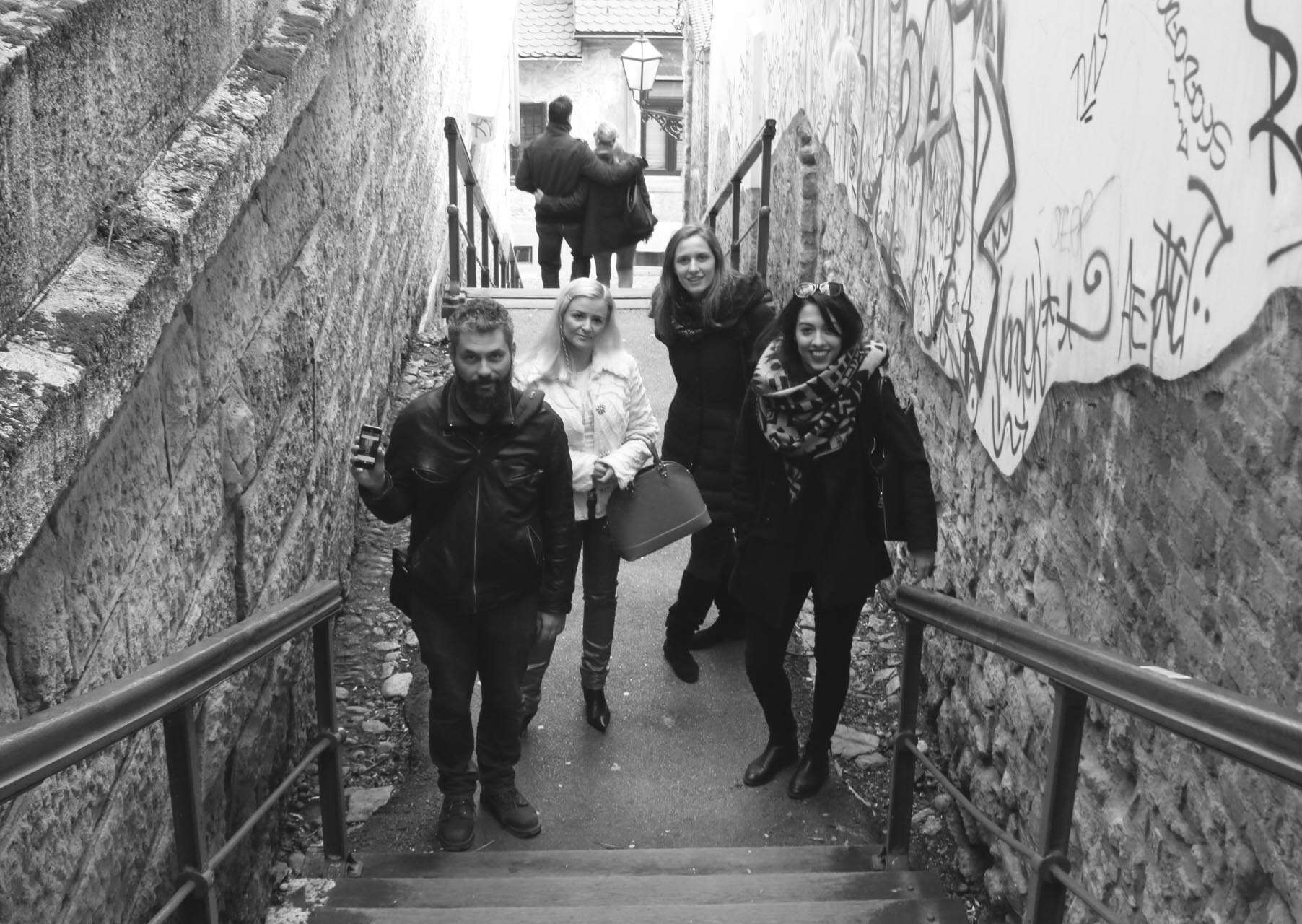 These stairs will take you from Tkalciceva to Kamenita vrata; you don't have to walk back to the Ban Jelacic Square and then to Radiceva Street. The stairs are fantastic too see!
Then we climbed to Radiceva street and went through Kamenita Vrata to Branka's favorite place in the Upper Town's – Hand Made flower fence by Herman Bolle, the man who built the Mirogoj cemetery and many other city attractions, which is why he is also called 'The builder of Zagreb'.
The fence is the entrance to the Croatian Institute of History, where you can find a fountain also made by Bolle. It is near Mark's Square and other sights of the Upper Town. It is the perfect background for your Zagreb photos, very photogenic and unique. Worth seeing.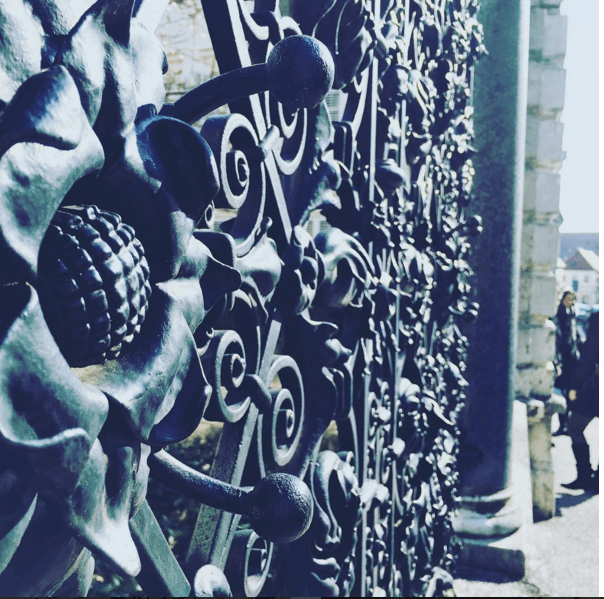 Dora and Mia – two cherries on the top of the cake
Dora and Mia took us Downtown again, but not before we explored a few more hidden places such as Kapucinske stube, the stairs that connect the Upper Town and Tuskanac.
'We love short alleys. Tourists don't know about them, so you can run through the city by avoiding crowded places.' the girls said. Two of them have three profiles on Instagram – Mia and Dora and Artimido where they collect the best parts of Zagreb.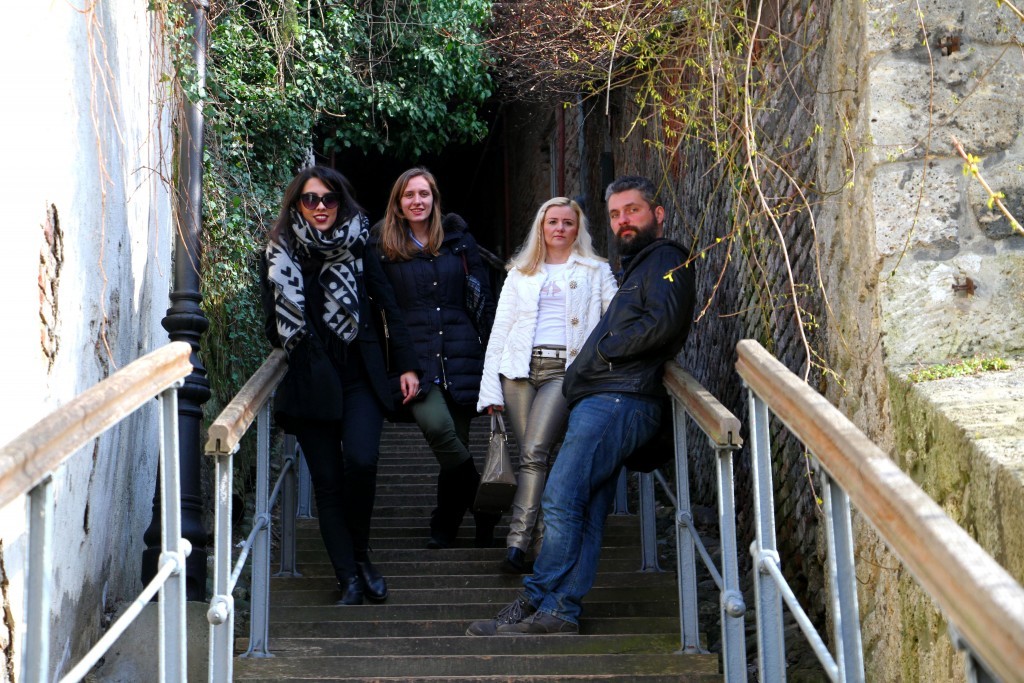 ' We love taking photos, so every day we challenge ourselves to make more and more beautiful pictures of our beloved city. Each day we are on a mission – we try to take perfect photos, and that is why we are so grateful you found us and recognized us' the girls said and showed us a few of their favorites spots.
1. Tunnels of Zagreb that go under the Strossmayer's Promenade, under the Funicular to Radiceva, Tkalciceva and who knows where else.
'This is a real city mystery because some people say that the whole city is interwoven with these tunnels. Apparently they go to Sljeme as well' the girls said with their eyes wide open. For those who don't know, the city tunnels are locked, but we heard a gossip that maybe they would soon be opened to the public.
2. Schoolyard of the Music school
"Not many people know that through entrances of buildings all the way along Ilica you can reach fantastic places. This way we 'cut' Ilica and go to the other side to Europe cinema. Very practical to avoid city crowds.
3. Oktogon
'One of our favorite places in the city is undoubtedly Oktogon. It is very pleasant, always filled with music, but somehow quiet at the same time. It has a beautiful ceiling that seems to invite you to play'.
And, when we came to Oktogon, its glass vault took us back to childhood. We started blowing foam bubbles, we made silly photos and hopped up to Ilica.
That's where our first meeting finished. O.K. Later we went to grab a cup of coffee, but officially our meeting ended with a lot of beautiful public images and enriched with new friendships. In the end, we realized that we want to get together once again and take more pictures together, which is why on Saturday we organize a second JustZagreb Instagram Meetup. We invite all of you who want to discover the city, to photograph hidden details and to have fun with us. Welcome!