As we headed out to Molunat, we expected to find people in the nowadays usual and very understandable state of whining and desperation. But what we found was the complete opposite: beaches full of people, children splattering and building sandcastles, kayaks, boats and inflatable swans and unicorns gliding through the sea, full cafes, bars and guess what? No one complaining. Not a single soul.  In a pretty crowded camp right next to the beach, we met young Poles Olga, Stašek and Wojtek, boiling some sausages and vegetables. "Is that lunch you're making?" we begin the conversation.
"No, it's actually our breakfast," they answered chuckling, "even though it's past noon."
They found Molunat to be gorgeous and they still haven't made time to visit Dubrovnik. But they certainly will.  "We guess that the Old Town is probably a bit empty because there aren't many tourists these days, which definitely makes it even more beautiful," they say. They have visited the Dubrovnik area several times already and find our country especially dear to their hearts, as they have been returning every summer since childhood.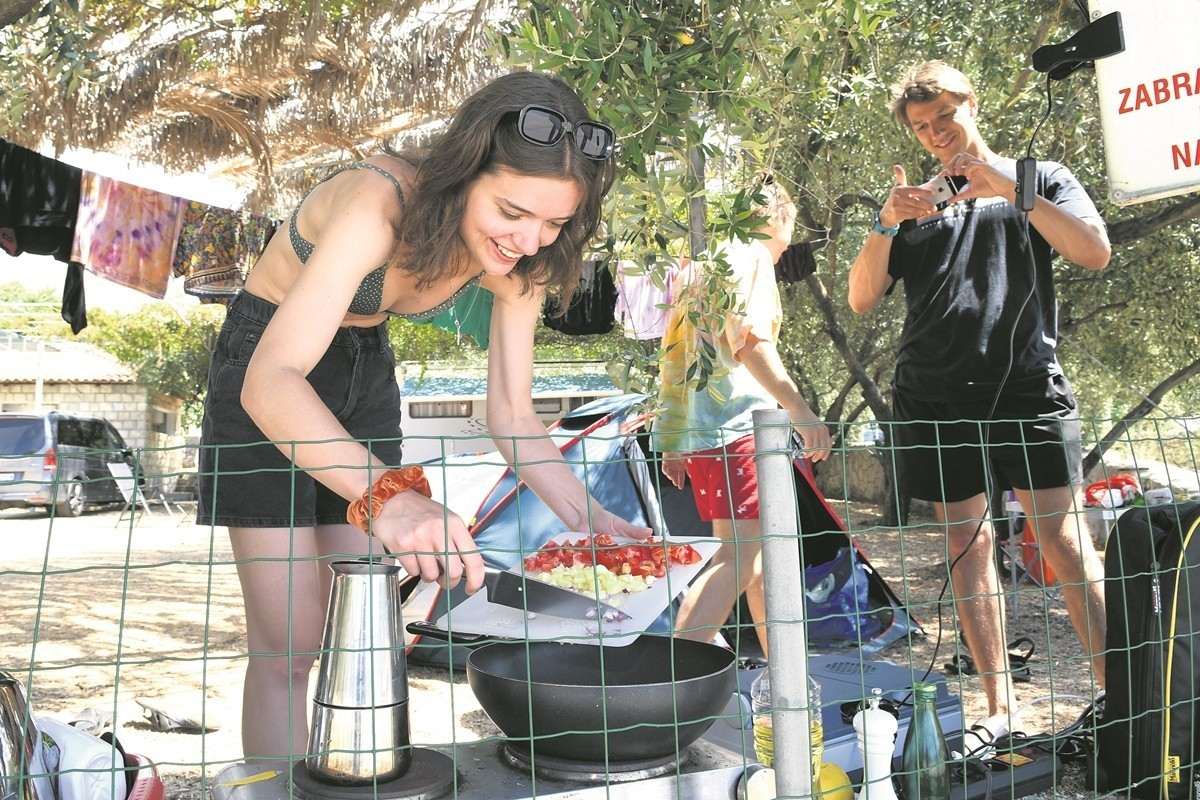 "We have visited Croatia many times with our parents. I've been to Molunat ten times already, so I guess you can say I became a local here," said Olga laughing, and the fact of disagreeing with her never crossed our minds, especially when she offered us a shot of 'travarica'. They also visited the Makarska Riviera, but … "It is really beautiful, but Molunat is our favourite," she said. Wojtek pointed out he thinks the southern part of Croatia was totally different from the north. "Nature is more exotic, and people are always kind and smiling," the dear Poles told us.
Seeing all the hustle and bustle in the sea, we headed to the kayak and jet-sky rental stand.
'Good old' guests coming back
Tin Cvjetković said the number of guests was solid, and by the middle of July their arrival intensified.
"Camps and private accommodation dominate in Molunat. Most of the guest are Poles, Czechs, but also English since the airlines to Dubrovnik were reopened. There are also some Germans," he said. It's about the 'old' and loyal guests who have been Molunat's faithful visitors for many years, like the Poles we previously talked to.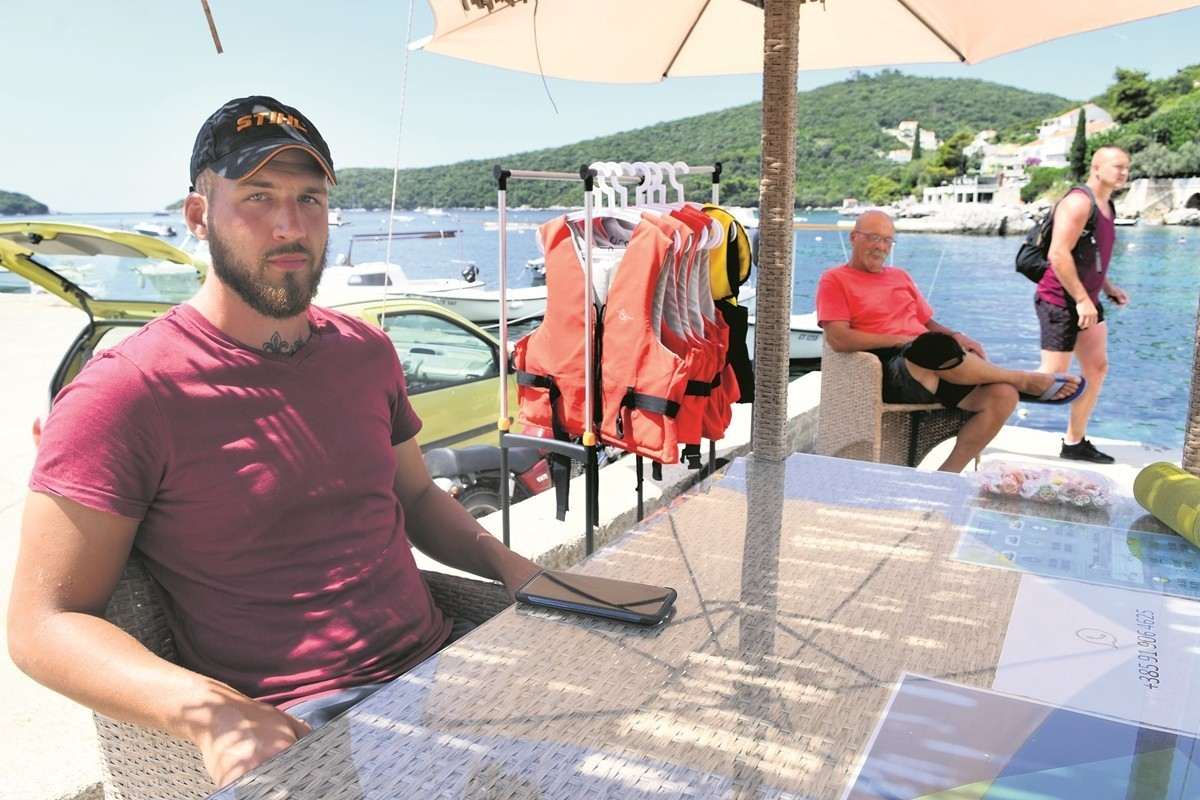 "We rent jet-skies, boards and kayaks and give discounts to the locals, of course. I can say the business is good, yes. We also have two apartments, one of which is pretty well booked," Cvjetković pointed out. "No one mentions coronavirus anymore," he says, "people are no longer hesitant."
We see an older couple by the sea, relaxing while swimming and fishing together.
She fell in love with Molunat
Gillie Sutherland arrived in Molunat from the United Kingdom, more precisely from Devon. Last year was her first time visiting Molunat.
"I was on a 'yoga vacation' in Cavtat and I had a short break between vacations. I decided not to return to the United Kingdom, but to take some time off here in the vicinity. When I found Molunat I knew right away, it had this special energy – good for health and ideal for yoga. From that moment on I decided to spend all of my 'yoga vacations' in Molunat because you can just feel the connection to nature, which is very important to me," Gillie says. She teaches three yoga groups for local people, but also brings foreigners on 'yoga vacations' to Molunat thus filling the rooms and apartments of the people of Konavle.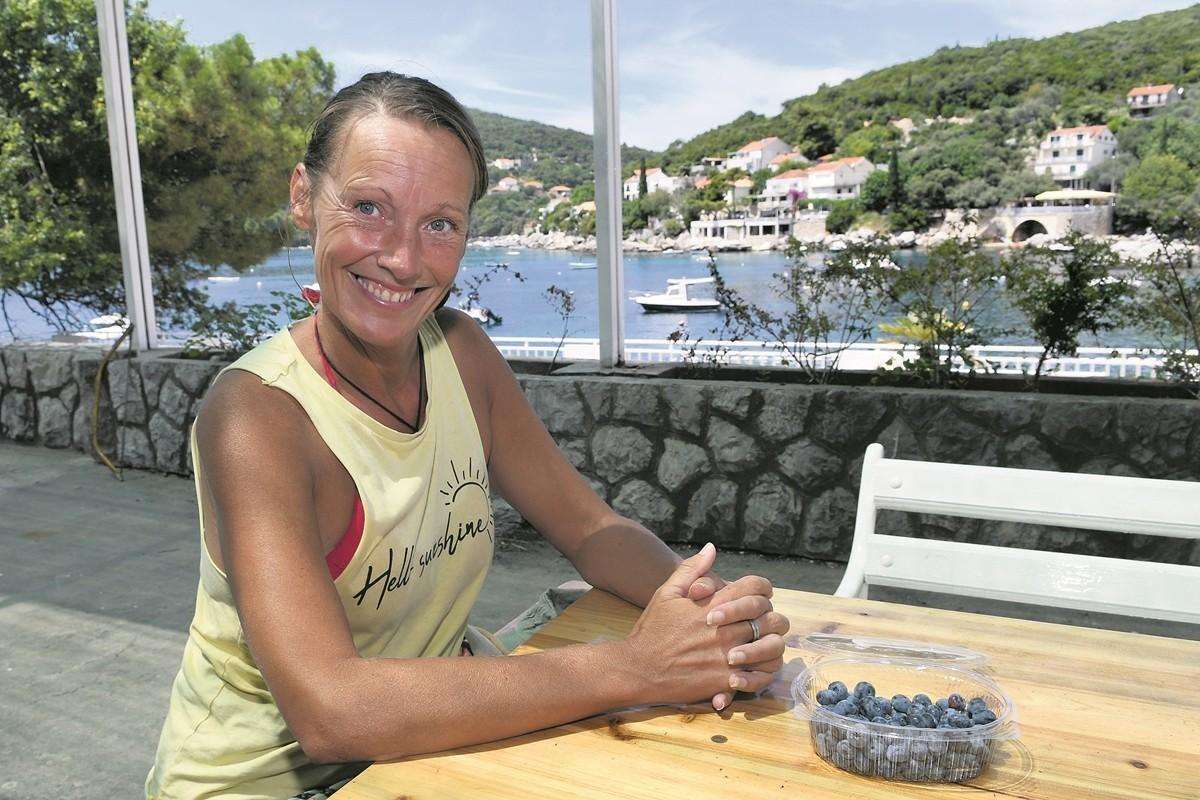 Digging through the wilderness of the Internet, we came across some interesting facts about Molunat. According to them, Molunat was a port during the time of Antient Rome, and was used as a refuge village in the 15th century Dubrovnik Republic. It was also a shelter for plague patients and a quarantine for ships that came from infected ports.
Today, Molunat is a shelter from stress, sanctuary of peace and quiet, a wonderful oasis of beautiful nature and above all, a safe haven of infectious optimism.
Photo: Zvonimir Pandža
Dulist & Just Dubrovnik